Duellum is the thrid episode of the first season of Terminator: The Sarah Connor Chronicles Virtual Season.
Sarah tracks down another terminator that looks exacatly like Cameron, meanwhile a familiar face turns up at the resistance base in the future.
Characters
Edit
Main Characters
Edit
Sarah Connor
John Connor
Cameron Philips
James Ellison
Savannah Weaver/Sierra
Terissa Dyson/Tango
Reccurring
Edit
Derek Reese
Kyle Reese
Allison Young
Mr. Murch
Jesse Flores
John Henry
thumb|300px|left|Episode 3 Promo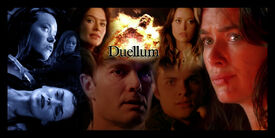 External links
Edit
http://www.grumpysdesigns.com/tscc_vs/season_one/epi_003/three_part_one.htm
Ad blocker interference detected!
Wikia is a free-to-use site that makes money from advertising. We have a modified experience for viewers using ad blockers

Wikia is not accessible if you've made further modifications. Remove the custom ad blocker rule(s) and the page will load as expected.