No Fate But What We Make
Season 1, Episode 1
Air date
March 1, 2010
Written by
Inspector Boxer
Episode guide
Previous
Born to Run
(Sarah Connor Chronicles Episode)
Next
The Ties That Bind
No Fate But What We Make is the premier episode of Terminator: The Sarah Connor Chronicles Virtual Season.
The episode takes place after Born to Run, Sarah finds herself without her son and she must fight to stop SkyNet, meanwhile John struggles with the reality of the war torn future he has found himself in.
Character
Edit
Sarah Connor
John Connor
Cameron Philips
James Ellison
Savannah Weaver
Terissa Dyson/Tango
Recurring
Edit
Derek Reese
Kyle Reese
Allison Young
Mr. Murch
Jesse Flores
Catherine Weaver
John Henry
Agent Auldridge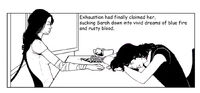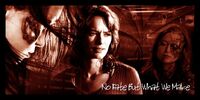 External Links
Edit
Ad blocker interference detected!
Wikia is a free-to-use site that makes money from advertising. We have a modified experience for viewers using ad blockers

Wikia is not accessible if you've made further modifications. Remove the custom ad blocker rule(s) and the page will load as expected.