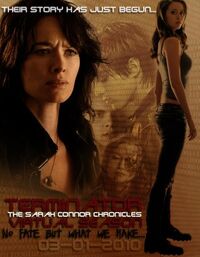 Characters
Edit
Main Characters
Edit
Recurring Characters
Edit
Derek Reese
Kyle Reese
Allison Young
Mr. Murch
Jesse Flores
Catherine Weaver
John Henry
Thomas Auldridge
Riley Dawson
Danny Dyson
Frederick Vaughn
Episode List
Edit
| | | | | |
| --- | --- | --- | --- | --- |
| No. | Image | Title | Writer(s) | Upload Date |
| 1 | | No Fate But What We Make | Inspector Boxer | March 1, 2010 |
| 2 | | The Ties That Bind | Anklebones | March 15, 2010 |
| 3 | | Duellum | Silk | April 5, 2010 |
| 4 | | The Song Remains the Same | Trancer | May 3, 2010 |
| 5 | | Vertigo | Zennie | May 17, 2010 |
| 6a | | All the Kings Horses (Part 1) | Anklebones | June 7, 2010 |
| 6b | | All the Kings Horses (Part 2) | Anklebones | June 28, 2010 |
| 7 | | Where Madness Reigns | Ralst | July 17, 2010 |
| 8 | | Long May You Run | Inspector Boxer | August 9, 2010 |
| 9 | | Dark Come Soon | Zennie with Inspector Boxer & Anklebones | August 30, 2010 |
Promotion
Edit
The Virtual Series was first announced on the 11th of December 2009, a teaser trailer containing clips of the television series was uploaded to the series livejournal page by the series videographer, Masque, with the tagline "There is a storm coming...". The video also confirmed the premiere date for the series, March 1st 2010.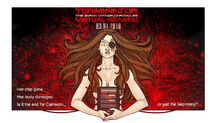 On the 18th of December 2009 the first promo image was uploaded to the livejournal by 2headed_turtles, with the caption
"Cameron's story..."
. Highlighting the character's significance in the upcoming virtual season as well as her connection to the Turk machine.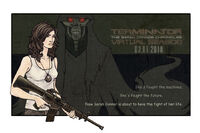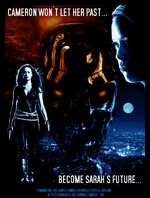 On the 8th of February 2010 a second promo image highlighting Sarah Connor was uploaded by 2headed_turtles.

Over the course of the next month a number of promo posters, video teasers and sneak peaks were released leading up to the release of the first episode. Subsequent promo images and posters were released throughout the duration of the season.