Terminator: The Sarah Connor Chronicles Virtual Season



Also known as

SCC VS

Genre

Science-Fan Fiction

Executive Producer(s)

Inspector Boxer
Ankelbones
Zennie

Characters

Sarah Connor
John Connor
Cameron Philips
James Ellison
Savannah Weaver
Terissa Dyson
Danny Dyson

No. of seasons

2

No. of episodes

18 (List of Episodes)

Original Run

March 1, 2010 - 2012
Terminator: The Sarah Connor Chronicles Virtual Season
is a fan created series that continues the story of the tv series. The series was developed by fan writers Inspector Boxer and Anklebones. The episodes are produced in written format and are uploaded onto the series' offical website.
The First season began uploading on March 1st 2010 with a 10 episode season (credited as 9 with episode 6 being two parts) and concluded on the 30th of August 2010.
The Second season began uploading on Febuary 11th 2011. After two episodes the series went on hiatus, it returned for a thrid episode on July 1st 2011. On August 1st it was announced that the series would return for another 5 episodes in September.
Two months after it's return writer Zennie announce that season 2 would be the last season of the SCC VS. The Annoucment stated that "This will be the last season for the Sarah Connor virtual season. While we've enjoyed writing it, the VS is taking a toll on our weekends, personal lives, and other writing projects so we won't be doing a season 3. But, I promise you, it will be a wild ride before the end. So stock up on rations, buckle up, and stay tuned for the end of the series".
Main Characters
Edit
Promotion
Edit
The Virtual season was first announced on December 11th 2009 with a promo video, acompanied with the tagline 
"There is a storm coming"
. Afterwards there were several images, posters and videos posted, leading up to the first episode, which aired on March 1st 2010.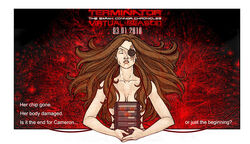 Episode 6a: All the Kings Horses (Part 1)
Episode 6b: All the Kings Horses (Part 2)
Episode 7: Where Madness Reigns
Episode 8: Long You May Run
Episode 2: Riders in the Sky
Episode 3: Toy Soldiers
Episode 4: Quietus
Episode 5: Epoch
Episode 6: Lines in the Sand
Episode 7: Coupe De Main
Episode 8: A Prayer for the Dying
External Links
Edit