Vertigo is the fifth episode of the first season of Terminator: The Sarah Connor Chronicles Virtual Season.
When there is a cyber attack on the computers at the warehouse the group is forced to leave, Ellison, Murch and Savannah look for somewhere new to stay while Sarah and Cameron track the source of the attack. Sarah and Cameron's relationship takes a game changing turn during the episode.
Characters
Edit
Main Characters
Edit
Sarah Connor
Cameron Philips
James Ellison
Savannah Weaver
Reccurring
Edit
Mr. Murch
Danny Dyson
Vaughn
thumb|300px|left|Episode 5 Promo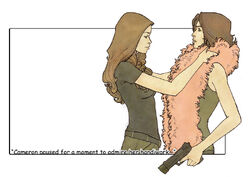 External Links
Edit
http://www.grumpysdesigns.com/tscc_vs/season_one/epi_005/five_part_one.htm
Ad blocker interference detected!
Wikia is a free-to-use site that makes money from advertising. We have a modified experience for viewers using ad blockers

Wikia is not accessible if you've made further modifications. Remove the custom ad blocker rule(s) and the page will load as expected.